Posts for tag: dentures
By Gordy Family Dental
January 12, 2020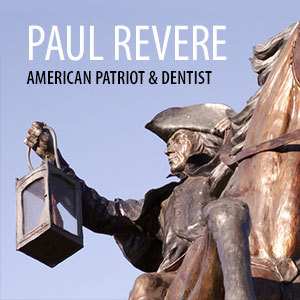 While celebrating all that a new year brings, take a moment to remember the New Year's Day birthday of a true American patriot: the legendary Paul Revere. Ironically, he became a legend some 80 years after his midnight trek to warn colonists of approaching British troops, thanks to Henry Wadsworth Longfellow's 1861 poem "Paul Revere's Ride." He was much better known to his fellow Bostonians as a prosperous silversmith, engraver—and "artificial teeth" maker.
That's right. Among his many business endeavors, Revere's résumé also included dental prosthetics, specifically custom dentures made of ivory. For the time, his work was state-of-the-art technology that far surpassed older tooth replacement methods.
But when we compare Revere's foray into the dental arts and today's restorations, his high quality 18th Century dentures were the proverbial "horse and buggy," while modern denture technology seems like "supersonic transport." Not only are today's dentures made of superior materials that are more "toothlike" in appearance, the means to create them using digital technology gives wearers a more secure and comfortable fit.
The modern denture—an appliance that replaces multiple or all lost teeth—is composed of a polymer base, usually acrylic that is colored to resemble gum tissue. Attached to this base are the prosthetic ("false") teeth that replace those lost along the jaw. These new teeth are usually made of a durable dental material like porcelain that looks and functions like real teeth.
The basic design of today's denture hasn't changed much in the last century. What has changed is our ability to create dentures that follow an individual jaw contours much more precisely. Using the latest digital technology, we're able to obtain highly accurate impressions of the mouth to guide the manufacturing process. Fit is critically important for how dentures feel and function in the mouth. If they are too loose, they become uncomfortable and limit which foods you can eat.
If that weren't enough, recent advancements with dental implants have taken dentures to an entirely new level, beyond anything imaginable in Revere's day. We're now able to create dentures that connect or are permanently affixed to implants set within the jaw, which makes them more stable and secure. An implant-supported denture also helps prevent bone loss, a weakness of traditional dentures, causing them to loosen over time.
As amazing as they are, we wouldn't have the modern version of dentures without craftsmen like Paul Revere who helped advance the cause of dental restoration. So, lift a glass of holiday cheer this season to this hero of the American Revolution—and of American dentistry.
If you would like more information about tooth replacement restorations, please contact us or schedule an appointment. To learn more, read the Dear Doctor magazine article "Removable Full Dentures."
By Gordy Family Dental
February 17, 2018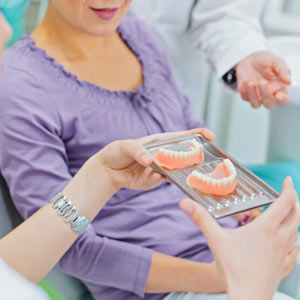 Twenty-six percent of American adults between 65 and 74 have lost all their teeth to dental disease. This isn't an appearance problem only—lack of teeth can also harm nutrition and physical well-being.
Fortunately, we have advanced restorative options that can effectively replace missing teeth. Of these, there's a tried and true one that's both affordable and effective: removable dentures.
Dentures are simple in design: a plastic or resin base, colored with a pinkish-red hue to resemble gums to which we attach prosthetic (false) teeth. But while the design concept isn't complicated, the process for creating and fitting them can be quite involved: they must conform to an individual patient's jaws and facial structure if they're going to appear natural.
If you're considering dentures, here's some of what it will take to achieve a successful outcome.
Positioning the teeth. The position of the prosthetic teeth on the base greatly determines how natural they'll appear and how well they'll function. So, we'll need to plan tooth placement beforehand based on your facial and jaw structures, as well as photos taken of you before tooth loss. We'll also consider how large the teeth should be, how far to place them forward or back from the lips, and whether to include "imperfections" from your old look that you see as part of your appearance.
Simulating the gums. While the teeth are your smile's stars, the gums are the supporting cast. It's important that we create a denture base that attractively frames the teeth by determining how much of the gums show when you smile, or adding color and even textures to better resemble gum tissue. We can also add ridges behind the upper teeth to support speech.
Balancing the bite. Upper and lower dentures don't operate in and of themselves—they must work cooperatively and efficiently with each other during eating or speaking. So while appearance matters, the bite's bite adjustment or balance might matter more. That's why we place a lot of attention into balancing and adjusting the bite after you receive your dentures to make sure you're comfortable.
This is a detailed process that we may need to revisit from time to time to make sure your dentures' fit remains tight and comfortable. Even so, modern advances in this traditional restoration continue to make them a solid choice for total tooth loss.
If you would like more information on denture restorations, please contact us or schedule an appointment for a consultation. You can also learn more about this topic by reading the Dear Doctor article "Removable Dentures."
By Gordy Family Dental
May 06, 2017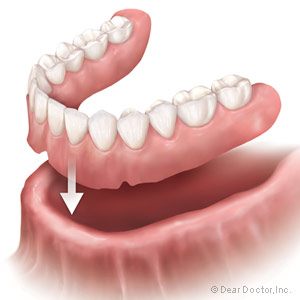 Since as many as 26 percent of older U.S. adults have lost all their teeth, there are a large number Americans who wear full removable dentures, also known as false teeth. You may be one of them.
How much do you know about dentures? See if you can answer the following questions connected with lost teeth and dentures.
Which word refers to the loss of all permanent teeth?

Atrophy
Prosthetic
Edentulism
Periodontal

What is the name given to the bone that surrounds, supports, and connects to your teeth?

Periodontal
Metacarpal
Tibia
Alveolar

What tissue attaches the teeth to the bone that supports your teeth?

Periodontal Ligament
Periodontal Muscle
Parietal Ligament
Achilles Tendon

When a person loses teeth, the stimulus that keeps the underlying bone healthy is also lost, and the bone resorbs or melts away. Pressure transmitted by dentures through the gums to the bone can accentuate this process, which is called

Dystrophy
Atrophy
Hypertrophy
None of the above

A device that replaces a missing body part such as an arm or leg, eye, tooth or teeth is referred to as

Robotic
Imaginary
Exotic
Prosthetic

When teeth have to be extracted, bone loss can be minimized by bone grafting. Bone grafting materials are usually a sterile powdered form of

Allograft (human tissue)
Xenograft (animal tissue)
Both
Neither

Wearers of full dentures must re-learn to manipulate the jaw joints, ligaments, nerves, and muscles to work differently in order to speak, bite, and chew. The name for this system of interconnected body mechanisms, originating with the root words for "mouth" and "jaw," is

Boca biting
Stomatognathic
Periodontal
None of the above

A type of plastic that is artistically formed and colored to make prosthetic teeth and gums look natural is called

methyl methacrylate
beta barbital
rayon
polystyrene

Success in denture wearing depends on

The skill of the dentist
The talent of the laboratory technician
The willing collaboration of the patient
All of the above
Answers: 1c, 2d, 3a, 4b, 5d, 6c, 7b, 8a, 9d. How well did you do? If you have additional questions about full removable dentures, don't hesitate to ask us.
Contact us today to schedule an appointment or to discuss your questions about dentures. You can also learn more by reading the Dear Doctor article, "Removable Full Dentures."